It's Breast Cancer Awareness month!
This is a cause that is super dear to my heart.
In 2004, I lost my grandma to a very long battle with breast cancer. This is one of those times in my life that I seem to not have gotten over. I get teary-eyed every single time I think about her.
This disease wrecked a big part of our family. My grandma was amazing. From quilting to canning, and from cracking jokes to riding rides at Universal-she was just down right awesome.
This was a woman who was Jesus to everyone she knew. I can't say one bad thing about her. The legacy she left behind is incredible....which makes being without her even more painful.
One of my favorite memories was that of my junior prom. She bought me THREE different dresses to choose from. She got my shoes, jewels for my hair, and even a little jeweled tattoo to go on my back (I told you she was awesome). Unfortunately, my prom sucked. All my friends left me, and I sat on a bench outside the whole time, talking to my grandma on my cell phone. I was in FL and she was living here in NC. I'll never, ever forget that. She made me laugh. She loved me for me and I will always be thankful for that. She would brag about me while I was in dance, and show everyone my dance videos. I can't get myself to watch them now. Losing her was like a part of my heart dying-it's never really repaired.
Her passing was extremely hard on my mom. They were incredible close. But instead of allowing this situation to hold her down, through Jesus, she rose up and decided to use this to help others.

My mom designs relief pillows for women who have had mastectomies, or lymph node removal. My grandma's sister Darce, who is a breast cancer survivor, always carried a small pillow around to prop her arm on. It helps take the pressure off of the breast area.
They each have a ribbon where you can tie it on your shoulder like a purse.
Each one is also adorned with a pink ribbon that has a small Swarovski crystal, and a "In Memory of Grace and Twila" (my dad's mom who passed away from cancer just a few months after my grandma) tag.
My mom's pillows comes in all sorts of different patterns, and she adds new ones all of the time. She even does custom orders.
I love hearing all of the stories that people have written into my mom, thanking her for this product. She also uses this as an opportunity to share her story, and pray for these people who are going through a hard time. If anyone understands-it would be her.
So please, if you know anyone who is dealing with this horrible disease, share this gift with them.
For the rest of the month, my mom is offering 10% off your order, with the code, PURPLEKALE28!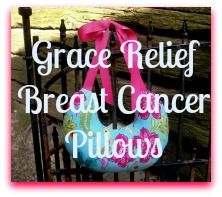 **If you would like to spread the word about my mom's shop, I'd love to do a guest post, or I can send you the code to place the button on your blog!! Just let me know down in the comments!
*If you loved what you read, would you mind taking a second to click this link and vote for me? All you have to do is click once, no signing up, nothing else to do!!! Thanks in advance!